Listen to or download this week's radio program:

© 2017 Don Pinson | [Download]
(Link not working? Right-click and select "Save As".)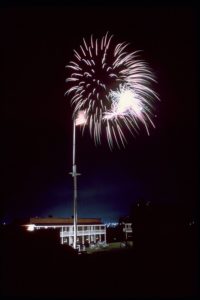 With more disrespect being shown to our flag, even within our own borders, it would do us well to revisit our heritage! Fort McHenry (where in 1812 a battle raged which inspired Francis Scott Key to write The Star Spangled Banner) was named after a man who served as a medical soldier in George Washington's army, and later signed the U.S. Constitution. His name was James McHenry. While unknown to us today, James McHenry was one of those men who laid such a firm foundation for America that during the 1800s it would grow to become the greatest nation on earth. James McHenry got his foundation from the Bible. In addition to his achievements just mentioned, he also served as a member of the Continental Congress, his state legislature, and the U.S. Secretary of War—and President of the Baltimore Bible Society! He had this to say about the Bible:
"…public [usefulness] pleads most forcibly for the general distribution of the Holy Scriptures. The doctrine they preach, the obligations they impose, the punishment they threaten, the rewards they promise…can alone secure to society, order and peace, and to our courts of justice and constitutions of government, purity, stability and usefulness.
"In vain, without the Bible, we increase penal laws and draw entrenchments around our institutions. Bibles are strong entrenchments."
He then Continue reading →