Listen to or download this week's radio program:

© 2016 Don Pinson / To Download, right-click here: [Download]
After we as mankind refused to let God's life come into us in the Garden of Eden, it wasn't long before we forgot what God had taught us about His purpose for us and how we were to live on this earth.  But now God is about to reveal His mind to man in such a way he won't ever forget it.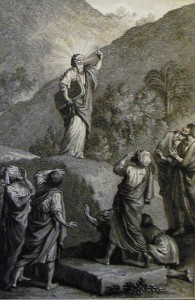 By miracles, He brings Abraham's children to the desert mountain known as Sinai.  In an awesome display of thunder, lightning, and the quaking of this huge mountain, God shows these "children of Israel" that He is the God who created them and is worthy of their utmost respect.  To begin this mind-altering process in man, God calls Moses up on the mountain, and, with His torch-like Hand, begins to engrave letters into the rock.  Moses watches in awe as ten commands are burned into the side of Sinai.  God then with His finger cuts the outline of two tablets separating them from the rest of the rock bed.  Moses, watching the smoking tablets, begins to read them:  "You shall have no other gods before Me…" (Exodus 20: 3).  Ten such commands reveal how God thinks about Himself, about man, and how He expects us to treat Him and those He has created.  God tells Moses to take them to the people at the foot of the mountain. He wants men to know how He thinks, and, because He wants them not to forget it, He's written it down.
The effect of this Sinai experience will be world-changing.  Now, for the first time, the mind of God has been summarized and written in stone.  Anytime man reads these words Continue reading →