Listen to or read this week's radio program:
© 2013 Don Pinson / To Download, right-click here: [Download] / Continue reading →

Happy Thanksgiving to all!  Do you and your family know the the true story of William Bradford, Governor and historian of the Pilgrims?  If not, this Thanksgiving would be a great time to discover him!  In this six-minute video, Don Pinson tells the story of Bradford's childhood and how he first became a "Pilgrim".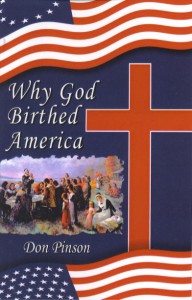 Just in time for Thanksgiving, Why God Birthed America is now available as an e-book on Amazon.com for $9.99!  It includes three chapters on the Pilgrims.  We believe reading this amazing story would be a wonderful addition and blessing to your family's celebration.