Listen to or download this week's radio program:

© 2016 Don Pinson / To Download, right-click here: [Download]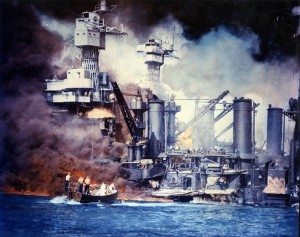 The date was December 7th, 1941.  The time was 7:55am.  To the complete surprise of American forces in Pearl Harbor, Hawaii, Japanese planes began to sweep down and drop devastating bombs onto our fleet and also our planes on the ground.  When the attack was done, 18 of our ships were sunk or sinking and nearly all of our planes were destroyed.  Over 3500 of our servicemen were dead.  We were shocked at such a bold and devastating attack on our U.S Navy.  Many wondered if the Navy would ever recover.  Even worse, we wondered if our liberty would shortly be ended and we would be required to worship the Emperor of Japan as god.
In the midst of this despair, President Franklin Roosevelt replaced the commander of our Pacific fleet with an Admiral named Chester Nimitz.  Nimitz arrived at Pearl Harbor on Christmas Eve, 1941.  He immediately went for an inspection of the harbor.  Sunken ships and twisted metal were everywhere.  Once Nimitz had inspected the whole harbor, the young seaman at the helm of his boat asked him, "Well, Admiral, what do you think after seeing all this destruction?"  Nimitz' reply shocked everyone listening.  He said, Continue reading →