Listen to or download this week's radio program:
© 2015 Don Pinson / To Download, right-click here: [Download]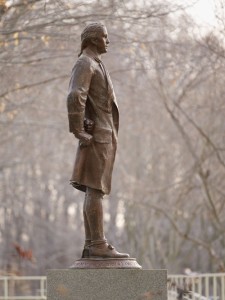 In light of the growing threat to the free expression Biblical truth, let us remember those whom God has used in the past, and draw the strength of faith from their stands.  The faith of one, Abraham, was used to save many lives when he attacked the kings who had carried off his nephew Lot and his family.  Though Abraham had only 318 men in his "household army", God defeated the combined armies of four kings and rescued the captives they had taken, including Lot.  And because of Abraham's obedience in the face of fear, God greatly blessed him during and after the battle (Genesis 14)!
Gideon, with just 300 men, overcame an army that was "without number" (Judges 6:5):  Demonstrating how powerfully God shows up on behalf of those who trust Him!
Elijah, alone, faced 450 prophets of Baal and challenged the nation of Israel to decide who was God in Israel (1 Kings 18).  Yet God showed up on Elijah's behalf while there was no move from Baal at all.  The fire of God fell on Elijah's prepared sacrifice and consumed not only the sacrifice Continue reading →