Listen to or download this week's radio program:
© 2015 Don Pinson / To Download, right-click here: [Download]
It's such an amazing story!  Patrick, a young, former slave in Ireland, was called by God in the 400's to go share the Gospel of Christ with those same Irish people who had enslaved him just a few years before!  Yet, without fear, he boldly entered again into that realm and became the agent of liberty to those who had once been his agents of slavery.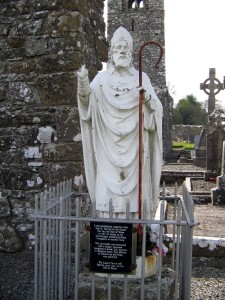 He developed this boldness because Christ had revealed Himself to him in such a living way.  Patrick's faith in Jesus was no cold orthodoxy; his was a living relationship with the living, resurrected Son of God!  In Patrick's life, Jesus was Lord!  We get a glimpse of the intimacy between him and his Lord when he writes of hearing His voice.  With great humility he simply states that God said to him:
"He who gave His life for you, He it is who speaks within you."
(Great Christian Classics, Kevin Swanson ed.; Generations With Vision, pub. 2010; p. 140)
His knowledge of Christ was deeper than most of us today.  He understood that Jesus dwelt inside him.  He knew Christ, not only as the Lord of heaven—which He certainly is—but as the present, resident, Lord inside Patrick.  One time he actually saw the Holy Spirit praying within him.  He wrote, Continue reading →